Freelance web developer Tunisia
Freelance Web Based Enterprise Application
Web Based Enterprise Application
Gone are the days when traditional system was used for doing business. Today Internet is not just to surf around but to use enterprise applications from multiple locations and share enterprise applications with business partners, suppliers and customers. An efficient web application can integrate employees, business partners, clients and vendors on a common platform where they can access required information independently, communicate flawlessly and take advantage of automated processes. They can work with you in more integrated way ensuring more productivity at reduced time and cost.
Web based applications offer all features and advantages of legacy and offline applications with the following specific advantages of being web based :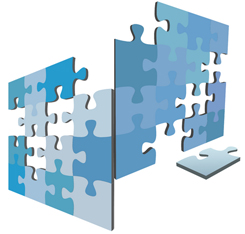 Open to more business stake holders in most economic way. Users need only web browser and internet connection to access the application.
Since the application and database are hosted on web-server, expensive IT infrastructure is not required.
Any change or up-gradation can be implemented very fast, almost instantly. Whereas in case of distributed application change or up-gradation can take weeks or months.
Enables close monitoring on day-to-day activities and assessment of the business processes.
I execute end-to-end customized web based enterprise application development project for small and medium businesses. A customized web application development derived out of the vision of the client results in higher productivity, managing information effectively, reducing cost and smooth functioning of business processes.
Some of the most sought after web based application development areas especially for small and medium sector businesses :
Web based database application
Advanced online store
Collaboration with business partners
Online quote system
Online ordering system
Web Design
Web Development
Web Application
Web Marketing