Freelance web developer Tunisia
About Freelance Web Developer
Profile
My name is Mekki GHEDIRI - a Tunisian professional web programmer since 2001. I offer clean and high quality W3 hand coded greatness. I am specialized in php/mysql programming, building custom database driven and interactive web applications. I've worked for different web agencies and currently maintain websites for clients such as USA, Tunisia and France.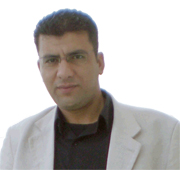 I am a Professional Freelance PHP MySql programmer, Web Developer. I have a degree in Computer Application and have been doing my own freelance work for over five years now. If you're looking for a freelance web programmer, I think you'll be pleased with what I can offer.
If you are looking for hiring a professional PHP & MySql Programmer/Freelancer with affordable price, please Contact me and send me details of your project.
Skills
Over 9 years of practical experience in developing web solutions
Freelance programmer developing web based solutions such as PHP / MYSQL Website Development, Content Management System (CMS), E-Commerce Website, Web Based Enterprise Application, Payment Gateway Integration, Relationship Management System, Financial Calculator, Search Engine Optimization (SEO) ...
I am an experienced developer of database-driven websites required to perform complex information processing, storage, analysis and reporting tasks. In addition to my technical expertise I have a good understanding of the human and commercial aspects of web development such as navigability for end users and optimization for search engines.
Technical
I am specialized in the technologies that looks most promising to me including:
XHTML / HTML / DHTML
XML / XSLT / RSS
CSS / Frameworks
Javascript / Ajax
jQuery / MooTools
Web Services
Google APIs
PHP / MYSQL
Joomla / Drupal / WP
PayPal / Authorize
PHP / ASP / JSP
IIS / Apache / Tomcat
Merise / UML / WebML
MySQL / Oracle
Windows / Linux / MAC
System Administration
SEO / SEM / PPC
FPDF / GD / CURL
Ruby on Rails
Web 2.0 Design
WMLScript, WAP
Quick Links
Quick contact
+216 22 899 456